Efforts to preserve
Tomo's attractions for the future
The atmosphere created by Tomo's historic townscape and the people's daily lives, as well as the traditional festivals and events held throughout the four seasons attract many sightseers, making it an internationally renowned tourist destination. With the region's declining population, rising number of vacant homes, and deterioration of the houses, etc., the old townscape is disappearing. This is also affecting the transmission of traditional culture, such as the festivals people preserved and fostered through history and daily life.

To regenerate and revitalize Tomo, the community and government must work together to preserve the townscape and develop the community so that people can continue to live their lives with a sense of security. It is also necessary to strive for harmony between daily life and tourism, so that those who live in Tomo and those who visit it alike can all keep on smiling.
Tomo's new local development policy: "Tomo Machizukuri Vision"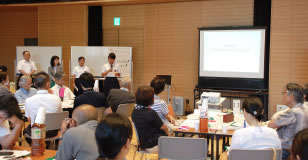 View of the workshop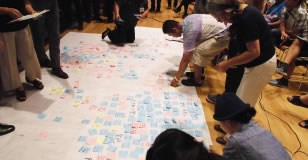 View of the workshop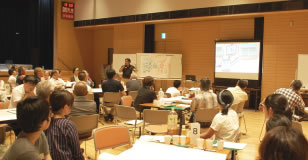 View of the general debate
With their children's and grandchildren's generations in mind, the people living in Tomo depict a vision of a future they can share in order to create by themselves a town where everyone can live their own lives with a sense of security. The Tomo Machizukuri Vision is a new local development policy for Tomo which sets forth the aims of tangible community-led efforts to bring this about, as well as that of government support and cooperative efforts by the community with government, and it is decided collectively by people of all ages, both in the city of Fukuyama and the Tomo area, as well as people who love Tomo living outside the area. Since 2016, as part of the efforts to work out the Tomo Machizukuri Vision, the city of Fukuyama has acted as the executive office, and opened the Tomo Machizukuri Vision Workshop with the cooperation of the Tomo Gakku Machizukuri Suishin Iinkai as a place where anyone can join in and exchange views.
Government Support
In Hiroshima Prefecture, there are various necessary hard and soft measures being worked on in cooperation and partnership with the city of Fukuyama to realize local development which will enable the people living in Tomo to continue to take pride in Tomo's history and culture, and to live their lives with a sense of security.
Resident's Information Session Materials
Activities Supported by Donations
Efforts related to preservation of Tomo's townscape and the conservation of historic scenery
Reconstruction of Kyu-Matsumotoke Jutaku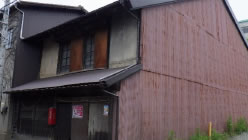 Conservation and restoration of traditional buildings via traditional construction methods
Training of heritage managers (individuals with qualifications for the preservation of historic buildings)
Support for the activities of townscape preservation groups etc.
Efforts to pass on
Tomo's traditional culture
Restoration and repair of implements used in traditional events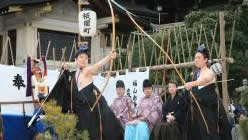 Installation of informational signs for historic buildings, historic sites, shines, and temples, etc.
Research of historical writings, documents, literature, etc.
Current State of Support
2023/06/01
Number of Supporters
Number of Business Supporters